Vacuum Excavation For Oil & Gas Pipeline Applications
Due to the risks and liabilities involved in the pipeline industry, safety and maintenance on existing infrastructure, as well as during new construction, is extremely important. Pipeline owners have established an extensive network of underground supply lines throughout Ontario that need to constantly be monitored and maintained. Near misses and incidents in this particular sector can result in millions of dollars of damage, so specialized equipment is necessary to implement safe work practices. Locating and daylighting key junction points is the first and most important step in maintaining, repairing, or adding on to existing pipelines.
Pipeline excavation can be extremely dangerous if not done correctly, or by not using the best-known practices. Vacuum excavation is the safest and most effective way to dig in the vicinity of supply lines and other underground utilities. Also known as "non-destructive" or "soft-digging", vacuum excavation equipment can be used to move large quantities of material without disturbing present infrastructure. Hydrovacs (wet vacs) can be used to deliver high-pressure water and vacuum, while dry vacs (Suction Excavators, or SE's) use the power of air to generate conveyance – both methods are safe and effective in trenching and digging with accuracy.
Maintenance & Repair Excavations
For regular inspections and maintenance, it is important to dig carefully to avoid causing any damage to pipes when exposing them. Using traditional methods of digging can accidentally damage pipes causing cracks and ruptures. Vacuum excavation can target a particular area that needs to be excavated and use either high-pressure water, or air, with precision and avoid any damage to existing lines.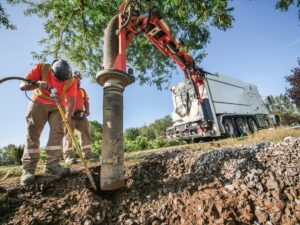 Laying New Pipes & Lines
Just before laying new pipelines, it is imperative to first expose the ones that already exist. Vacuum excavation is used to complete this task by creating accurate trenches and causing very little disruption to the working area so that other equipment can come in and complete the required job.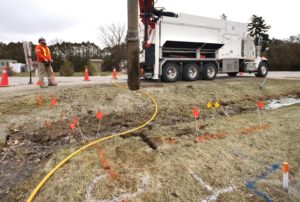 New Construction & Installations
Vacuum excavation can be used for creating trenches for the foundations of new construction and installations. It often happens that newer plants or units are installed over the area which already has other gas and oil units. In both cases, it is important to excavate carefully. Hydrovacs and SEs can help in slot trenching and potholing for precise construction tasks and keep the jobsite safe.
With vacuum excavation equipment you save a lot of time and money on digging, potholing, or simply cleaning a trench. However, the most important factor in using this equipment around gas and pipeline is to avoid damaging the infrastructure and ensuring the safety of your people.
Super Sucker has a wide selection of vacuum excavation and support service equipment available to serve the pipeline sector. Operating out of IUOE Local 793 our crews are highly trained and experienced in this range of work with COR certification to ensure the highest standards in safety.