WORLD CLASS TECHNOLOGY
Offering the latest in safe digging technology, and proven in use throughout Europe and around the world, our suction excavation (SE) trucks are the first units from Ox Equipment and MTS to be delivered to the North American market. A complementary service to hydro vac excavation, suction excavation utilizes the latest air flow technology to safely remove, excavate, and extract material without using water. The dry material flows through the boom-mounted dig tube and into a large onboard debris storage bin. The operator can then move the material for controlled disposal – on site for reuse or at an offsite facility for reclamation.
WHAT IS SUCTION EXCAVATION?
Suction excavation is the process by which high pressure air is used to break up dirt and material. This material is then vacuumed up into a truck via hose and can be disposed of either on site or a designated disposal site. This process has given us the capability to leave the materials on site since, for this specific method, we have removed the use of water.
DRY VAC EXCAVATION ADVANTAGE: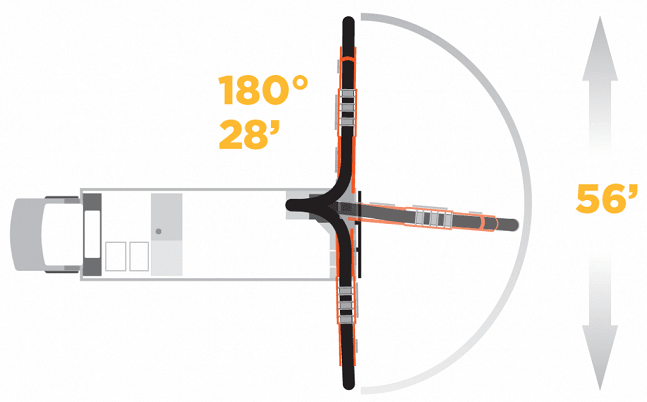 Twin Fan Technology, 24,000 CFM.
10 yd debris capacity
On site disposal capability
Hydraulic boom
10' dig tube
30 ft on-board hose and 300 ft remote hose
Air lance and spade for safe digging
Mechanical for aggressive, all-clear excavation (no utilities present)
Utility and Engineering
Exposing buried utilities
Working in areas with existing utility lines, identified or unknown
Electrical underground fault repair
Roadworks
Vacuuming of accident debris or split loads
Cleaning of tunnels, pits or marginal areas
Cleaning of road inlets
Work on overhead areas and bridges
Rail
Ballast removal/cleaning
Undercutting
Utility locates
Ground water removal
Spill cleanup
Industrial Sites
Vacuuming of contaminated soil
Uncovering underground tanks
Emptying boilers, bunkers, silos, etc.
Non-Hazardous emergency spill cleanup
Filter/sludge removal
Building Construction
Removal of debris and construction waste
Clearing or removal of gravel on flat or green roofs
Uncovering exterior or foundation walls and underground tank
Emptying filled tanks, ponds and pools
Landscaping
Tree root protection
Soil exchange
Drainage of ponds and pools
Removal of unwanted fill