Utility installation is complicated, and without the proper knowledge of safety, regulations and environmental factors, errors and complications can easily happen.
Turnkey solutions take the stress out of handling utility installations and maintenance. Instead of coordinating and managing numerous vendors yourself, a turnkey solution provider acts as a single point of contact and handles the complete project for you. As a result, your company saves time and reduces stress while receiving a seamless process that meets your project's requirements.
Super Sucker's Turnkey Utility Installation Projects
At Super Sucker Hydrovac Service, we work in conjunction with many utility owners and take care of the majority of the workload so that they can focus on installing utilities and manage maintenance schedules. We have extensive experience in these processes which can involve coring, vacuum excavations, backfilling and reinstatement.
Coring Drilling and Reinstatement
Compared to completing large, open excavations, coring and reinstatement is a more affordable method of completing repairs or inspections on roadways and sidewalks. From the ground surface via small, circular openings, the core is extracted and set aside for future reinstatement.
Unlike conventional pavement or sidewalk removal methods that generally require a full reinstatement after a temporary one, the strong surface left after core drilling won't require any future maintenance. This method can be used in various applications such as daylighting, water and gas valve box installation, and cutting pole holes in sidewalks. Our processes create a reduced carbon footprint and results in less downtime for traffic. When the project is finished, the excavation site is almost invisible.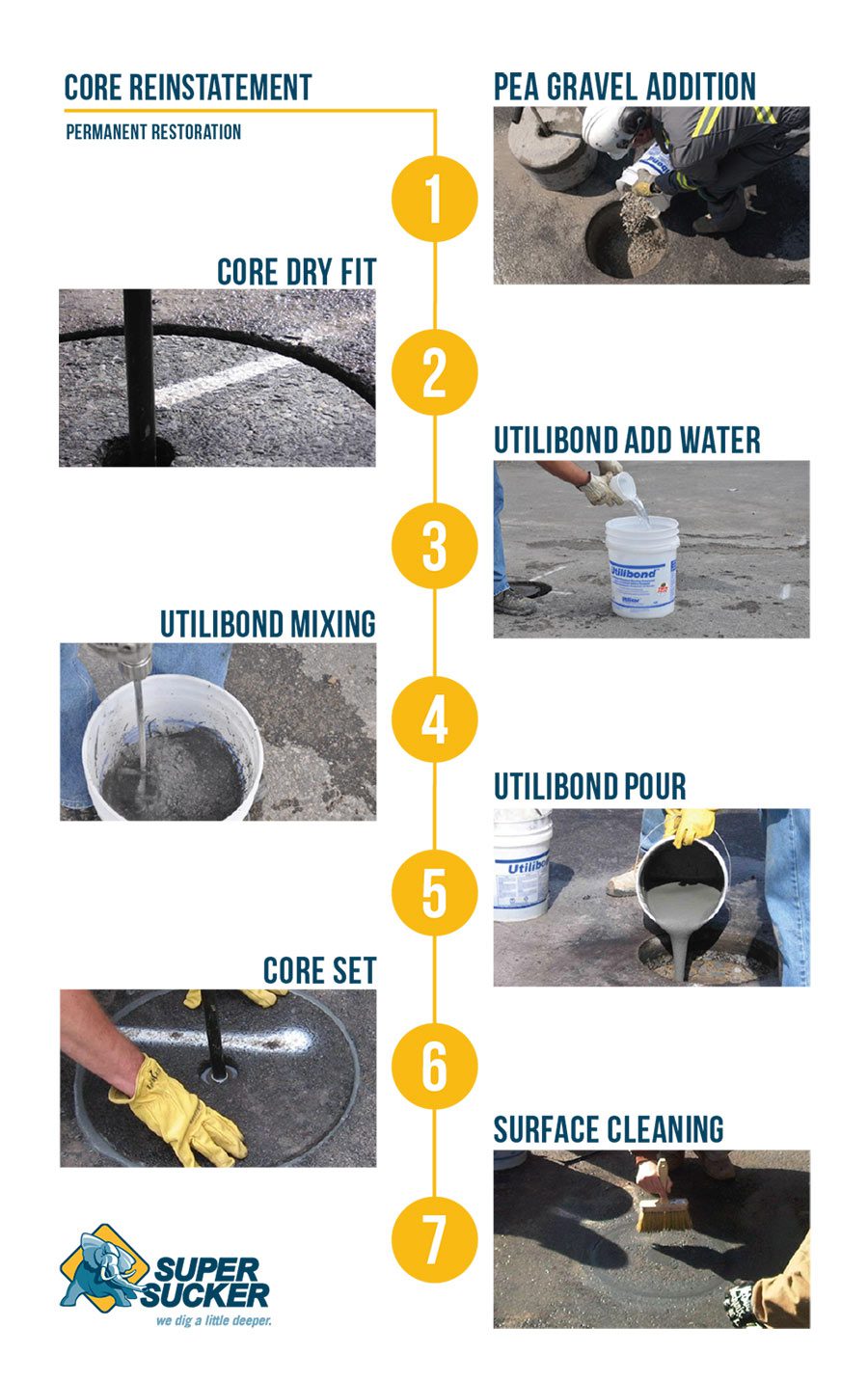 Hydrovac Excavations
Once the core drilling and reinstatement is complete, it's time for vacuum excavation. Our diverse fleet of hydrovac excavation trucks use high-pressure water to break-up and remove material from the site, or fill needs to be reused during reinstatement Super Sucker Hydrovac Service has some of the most technologically advanced dry suction excavators that can dump materials on site.
Vacuum excavation is known, especially in Ontario, as the safest way to dig when in the presence of underground utilities. It can be used for a wide range of applications ranging from daylighting to catch basin cleanouts. When excavating with vacuum equipment your end result is a safer and more efficient way to install and maintain utilities.
Backfilling
Once the repair or inspection is complete, the hole can be properly backfilled and compacted. Whether it's sand, soil, screenings, gravel, or HPB, our slinger trucks can unload up to 21 tonnes of material in minutes at a distance of up to 50 feet off the back of the truck. Additional backfill services include bulk bags, recycled soil, compaction, and seed/sod restoration.
To ensure every job is completed and compacted properly, all of our slingers have pneumatic and gas tampers on board
The Only Turnkey Providers
We understand the important role that utility services play in the use of our businesses and our homes, which is why Super Sucker Hydrovac Service has developed these turnkey solutions with decades of experience in delivering them. Our processes and diverse selection of advanced equipment are designed to create efficient, dependable, and cost-effective project flows for infrastructure owners.
Super Sucker Hydrovac Service has the subject matter experts who deal with infrastructure projects regularly and know how to accurately assess, coordinate and supply the specialized equipment needed to complete your utility services project all while working within your timeframes and schedules.
Let us handle all the details, logistics, and even the paperwork – take the stress out of planning your next infrastructure project.
Contact us today for more information, or call (905)-297-4695.